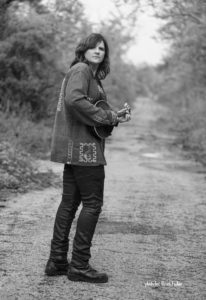 Amy Ray, one half of the legendary folk rock band Indigo Girls, is known for her strong Southern roots, fierce devotion to all types of music, her activism and (unbeknownst to her) her image as a gay fashion icon (and how she uses her clothes as an activist)… or should I say institution. We talk about all this during our interview, which took place at Brandi Carlile's Girls Just Wanna Weekend in the Riviera Maya in Mexico. Actually, she gives a pretty frank description of how to talk to people whose belief system is completely different than yours. She's very easy to talk to and we were still talking after the tape stopped. Her latest solo record is Holler, filled with traditional folk instruments and various sounds. Listen to our conversation and then listen to her new record! Don't forget to subscribe and review!
Amy Ray's latest album (released in September, 2018)

Aaaaand hope you can stick around after Amy's interview to get to know Jeffrey Martin. Jeffrey's a Portland, OR songwriter who gave up his beloved English teaching job to take on music full-time. His music is emotionally evocative and draws you in immediately. Topics discussed include having a preacher father, his partner (Anna Tivel), his relationship to fame and more. We got to talk at his gig at The Charles River Museum of Industry & Innovation in Waltham, MA.
Jeffrey Martin's latest album: